We spoke to one of long standing financial advisers, Richard Sheridan, DipFA MLIBF about being part of MPA, his route into financial services and why a holistic approach to advice ensures that clients get the best outcomes for their future plans.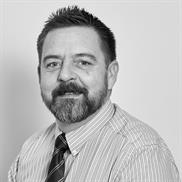 How did you get into financial services?
"I never set out to be an adviser over 25 years ago, it just sort of happened. I initially qualified in 1999 and was an agent for Pearl Assurance for two years collecting door to door policies. From there I spent 13 years with Lloyds Bank, firstly as a Financial Adviser and then as an Area Manager. When Lloyds were cutting back and looking to make changes at branch level, I took voluntary redundancy and looked for new opportunities. After interviewing with a few firms, I was introduced to Phil McGovern at MPA, had an interview and the rest, as they say, is history."
Why did you join MPA?
"I joined MPA as a self-employed independent financial adviser (IFA) eight years ago. It was at a time when there were a lot of sharks around and potentially some business being done that perhaps shouldn't have been, just to meet targets, and make the numbers work. In large firms there is pressure to sell products and meet investment targets. That's not how MPA works at all.
"Right from our initial chat, MPA felt right. It had the right culture, ethics and was a good fit for being an independent financial adviser. The team is customer focused at its core and wants to do the right things for people, even if that means pointing them to someone else who might be able to help, such as specialists, accountants or solicitors.
"MPA culture is the culture of doing the right thing for the client. All MPA advisers have freedom to offer the best advice for the client, without the pressure of reaching targets on products, so we truly have people's best interests at heart."
What is your area of expertise?
"Even though I'm currently studying for Equity Release qualifications, my approach has always been holistic. I want to get to the bottom of what people want to achieve for their future; and that isn't necessarily one specific thing or maybe even anything we can offer here at MPA.
"Making clients aware of the options available to them, whether that is pensions, investments, bonds, Venture Capital Trusts (VCTs) is important, but it's not just about products, taxation of investments and growth rates, its deeper than that. It's about getting into the psychology of the client to get them to understand opportunities and pitfalls of their choices. Advising on how they invest, where they invest, whether they invest at all or signpost other professionals. It's about adding value.''
"Getting to know people and forming a relationship is important. Understanding the wider family dynamic, property details, potential inheritances and aspirations for future generations. The products are just the products, they are vehicles to making things happen."
Do you have a typical type of client?
"Not at all. Often the more wealth people have the more value we are able to add, but we can make a difference to anyone who has savings in ISA from £20,000 to assets worth millions of pounds."
Do you have any memorable cases?
"What motivates me is making a difference to people's lives. As I said before, there are no typical clients, but a few scenarios have stood out where we've been able to have a significant impact on their future.''
"One client was a director of an international company, in his 40s, earning up to £500,000 per year. He was divorced, a property owner with no mortgage, had a small final salary pension and two children. He'd done no financial planning in his life. We met, chatted and he wanted to know if it was possible to retire at 55, with an income of £70-80K pa.  That was his ambition but didn't know how to get there, as although very intelligent and responsible in his own field of expertise for an international company, he had no idea or knowledge about how to achieve his aim.
Together we put a plan in place to maximise tax allowances. We are now four years away from the end of the plan and he has gone from £900,000 to £1.6million of investments, with products that will drip feed the required tax-efficient Income on retirement. Without advice, he would have had the income, but would have paid £20-30K per year in tax, in this scenario he will pay around £2k per year. He can now retire at 55 and fund university fees for his children without them needing a student loan.
"Another client was a 54 year old factory worker. He wanted to retire at 60 and asked me "what's the best cash ISA?" but I couldn't tell him outright, as that would constitute advice. I told him I would need to find out a bit more and offered an initial meeting. Over a few weeks we put together a plan. He had nothing in place other than a few small pensions and had saved cash but done nothing with it.
"My plan would allow him to retire at 62 and we were about to sign the paperwork to put the plan in place. Things changed: he won the lottery over that weekend! Instead of me looking after an initial £160K investment, we ended up with £800K and he retired the next day! We were able to add value by rationalising pensions and other investments. We made £50K profit overnight by converting cash into tax efficient investments securing his financial future. Including minimising his Inheritance tax liability.''
"A last example, is one of the cases that's given me the most sense of pride. It's one where we made a huge difference by giving the right advice and made a real difference in someone's life. Three years ago, a factory worker with a final salary pension scheme was offered the opportunity by their employer to take a Cash equivalent pension, instead of the £20,000 per year pension. After six months of meetings, weighing up the pros and cons, we eventually decided it was a good idea. The client was single, divorced with two daughters and four grandchildren. In his Final Salary Scheme, on his death after retirement his family would have received around £25000 in settlement.''
"The client retired six months later in the November, but sadly died suddenly in the following March of heart attack. However, because I advised transferring his final salary scheme to a recommended plan; instead of a few thousand pounds from the old scheme, his two daughters and four grandchildren inherited the final pension pot of £1 Million. They were able to buy new homes for their families and move out of the inner city. It was life changing money for them and their futures."
Final thoughts…
"If people are thinking of taking financial advice, I would always say find someone you trust and who you can talk to. An IFAs role is to chat to people, share and discuss what's on the short and medium term agenda and find out where they want to be in the future. A good independent financial adviser will interpret those goals and help people to achieve them. Without that guidance and no plan, people won't necessarily achieve their future ambitions.
I see my job as to protect people's wealth for themselves and their family and if I've done that, I've done the job well and it makes it all worthwhile."
For more information about how MPA can help you achieve your future financial goals, visit: https://www.mpafm.co.uk/services/.