Our Independent Financial Adviser, Ross Bennett, DipPFS spent time talking to us to share his route from made to measure tailoring into financial services and why you should always check under your sofa.
How did you get into financial services?
"I was born in the UK but grew up in Johannesburg, South Africa. I returned to England when I was 17, in the late 1980s and moved to Cornwall where I became a tailor, making made to measure suits.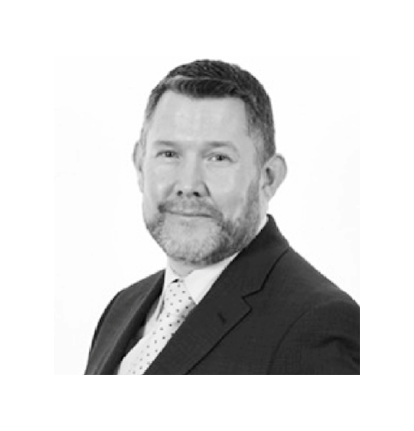 The recession hit and Cornwall was holiday focused, so there were limited options for progression. One day the head tailor asked us to go the bank and collect our wages. I took a sneak peak at the ledger and realised that my manager earned little more than I did after 20 years' service, so it was time to move on.
I got a map out and circled a 50-mile radius, settling on either London or Leicester as an ideal destination. I got a copy of the Leicester Mercury sent to Cornwall and applied for every job I thought could do. At 22 I applied for a job as an Insurance Agent as it sounded cool, being an agent, and I've been in financial services ever since.
I started off collecting door to door insurance premiums on council estates. I loved the people and have never lost the enthusiasm for them. I took my adviser exams alongside work. I moved onto mortgage broking and then into corporate banking with various banks for several years advising companies. I then trained as a high net worth wealth adviser and pension drawdown specialist before becoming an Independent Financial Adviser."
What brought you to MPA?
"I was working for a local accountancy firm on a project to expand their financial advice offering to clients and to further develop my knowledge. I enjoyed being back working with clients and spending time setting up the advice proposition, modernising the processes and learning more about the behind the scenes of the business. When COVID hit, things changed, the accountants halted the project overnight. Fortunately, I met and had an interview with Phil McGovern at MPA and had an offer by the end of the week.
Of the multiple interviews I had, Phil was the only one who spoke about the clients and told me how MPA treats their clients, not about what's in it for me or them."
What do you like about MPA?
"I've worked for 10 different places and don't want there to be an eleventh. Phil's core belief is customer first. MPA is the place I would want to have set up if I did it myself.
Everything they say they'll do is done. We are able to work from home, it is task and not time focused. MPA trusts you to look after the clients in the way that works best for you and them, so no 9-5, it is a work / life integration. It works brilliantly, the setup is fantastic, never any office related issues – able to fully focus on clients and that's our job.
You are allowed to do the job, without the product push for 'why haven't you sold X,Y,Z'. It allows you to look after the client in the best way for the client and the adviser. Clients get the best of you as you have zero agenda to hit targets. I believe a large cause of past mis-selling is down to management pressure of advisers. MPA gives advisers the freedom to do the job to best of their ability, so everyone gets the best outcomes.
We all get on well and have a shared purpose, we all work with clients to help them. That's the MPA point of difference – it's a collaboration between us and our clients with no set agenda, just a desire for the right outcome."
Do you have a typical client?
"Not really. I've developed a broad depth of knowledge from working with company boards to High-Net-Worth private clients, employee pension schemes to light touch clients.
I'm based in northwest Leicestershire but have clients from Devon to Aberdeen. This week alone I've been to Yorkshire, Wiltshire and Warwickshire. We grow together with the clients and so stay with them when they move. The mileage is never a problem, but the pandemic was good for introducing me to video calls that have proved fantastic for short chats and client review meetings.
I love face to face meetings, but without reams of print outs it is hard to run through the figures. Zoom has become a much more interactive tool for review meetings. You can't beat face to face though, and we schedule in person face to face meetings once or twice per year too.
The Brits are not known for chatting about finances, but they do open up to their IFAs. As IFA's we have a privileged position in people's lives – they trust you, take your guidance and help them achieve what they want to achieve. Especially in the current climate with bad economic news about cost of living, inflation, energy prices. I see the same worries from people with £20,000 to £2million in investments. We are there to chat that through and give a human face and peace of mind."
What have been your most memorable cases?
"The most memorable are the ones where I have made a real difference, where clients think they can't do something. They get hooked on an idea or product such as a pension, so you can help them think outside the box and help them make life changing decisions.
One client was a bus driver, who had inherited £15,000 and had no clue how to deal with it. While chatting about options, he mentioned a biscuit tin of share certificates under the sofa, which the family had been buying for years and had no real idea about. It turns out he had over £600,000 in shares. So, although we are not able to advice on shares, we were able to put them in touch with a stockbroker to manage their money and develop a tax efficient financial plan. It totally changed their lives.
Another area of interest is inheritance tax. I did seminars around the country to help people plan in this area. It's really interesting as you can genuinely help people pass wealth on to their kids.
I'm very passionate about my work and get a buzz out of helping people work out what to do with their money. It's a privilege and a joy. I can't see myself stopping, will do it until I can't!"
Final thoughts…
"You need to find an adviser that you are comfortable talking to. When people don't get on with their adviser, they don't pick up the phone when something is going wrong. I see people who could have benefitted from taking advice earlier and are not making the best of their money.
Good advisers will tell you if they can't help you. See a few, find one you are comfortable with and stick with them. Don't be afraid to pick up the phone. There's no harm or charge in talking."
For more information about financial planning with MPA visit: https://www.mpafm.co.uk.