Since the beginning of the COVID-19 pandemic, on average UK household savings have risen substantially. With shops, restaurants, gyms, pubs all shut, UK household savings are growing. Of course, household incomes have been impacted, but to a lesser extent. This is reflective of the Governments income support policies, particularly the Coronavirus Job Retention Scheme.
The Bank of England (BoE) conducted a survey at the back end of 2020, finding that 28% of those surveyed had added to their savings during the pandemic, whilst 20% had depleted their savings. Unsurprisingly those who increased savings were less likely to have been impacted by a fall in income (see household savings impact below).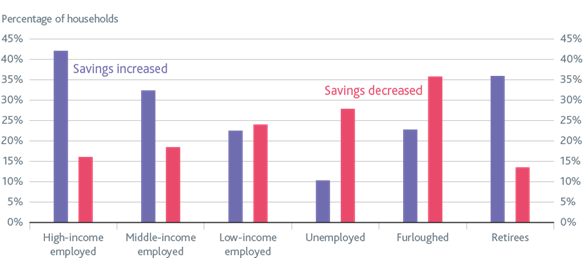 Accumulation has been greatest in high-income households (42%) and retirees (36%).
The reported households that had increased their savings was 45% higher, on average, than households that had decreased their savings.
The reported holdings of deposits were over three times greater than those who had decreased savings.
What does this mean?
On average in the UK, High-income, middle-income and retiree households increased their savings. With the BoE dropping interest rates to 0.1% back in March 2020 this has resulted in less than attractive interest rates being offered in cash savings accounts. The best interest rate in a cash ISA as of today (19th February 2021) is 0.60%- Paragon, 3-Year Fixed Cash ISA (money.co.uk). In addition, NS&I announced rate cuts in all of their variable rate accounts and reduced the number of prizes in their premium bonds by 40% (for details follow the link in "Further Reading" section).
With low available interest rates and the end of the current tax year approaching, just take 2 minutes to consider:
– "Have you increased your savings over the last 12 months?"
– "Do you have a large proportion of funds sat on deposit?"
– "Can you afford to expose some of the monies to investment risk?"
– "Have you utilised your full ISA allowance, maximised Pension contributions, made use of your full Capital Gain Allowance?"
If you think that any of these questions relate to you or your friends and family, please speak to your Adviser or contact MPA Financial Management Limited directly on 01564 795 997.
DISCLAIMER: It is important that you have an understanding that the value of risk-based Investments can go down as well as up, which means that you may not back what you invested."
Further Reading
For full details on information sources, please find the links below: