2018 will certainly be remembered as a year of two halves where the first half, kept its head above water and the second half had losses not seen since 2008. In fact only 8% of equity funds made a positive return.
Below is a chart of the main sector averages over 2018, with Europe and UK coming off worst.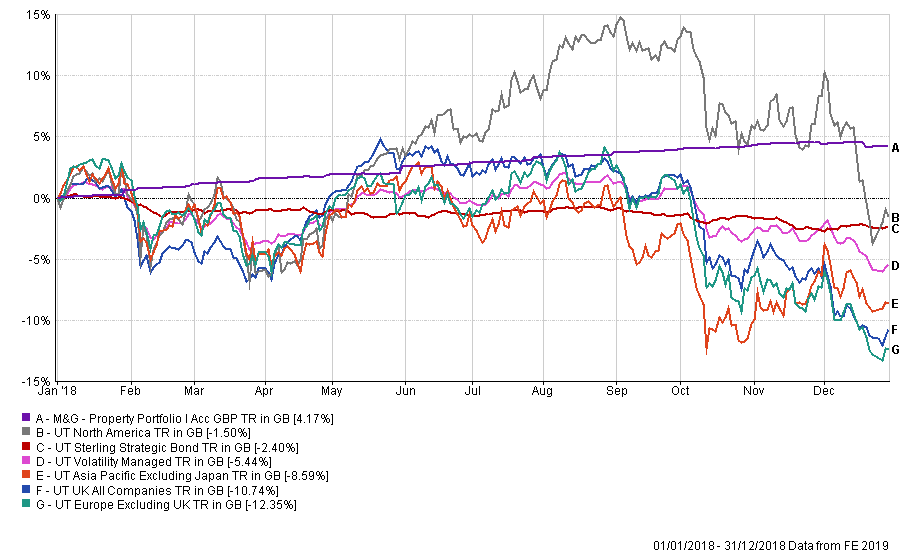 Property was the best performing sector, out of these, and I have included M&Gs property fund here as it is a bricks and mortar fund and the sector average includes funds that have property shares in them and is not a true representation of the types of property funds we recommend. North America was the best performing equity sector, but still lost money in the calendar year, mainly in the last month.
Looking at the range of model portfolios and risk rated portfolios we use, the news is not much better, except for the PruFund Growth. This range of funds is run on similar lines to the old with profits way of investing money and I would expect this type of fund to be positive when everything else is suffering. We have used it a lot in the last few years to help balance out portfolios and reduce losses when times are tough.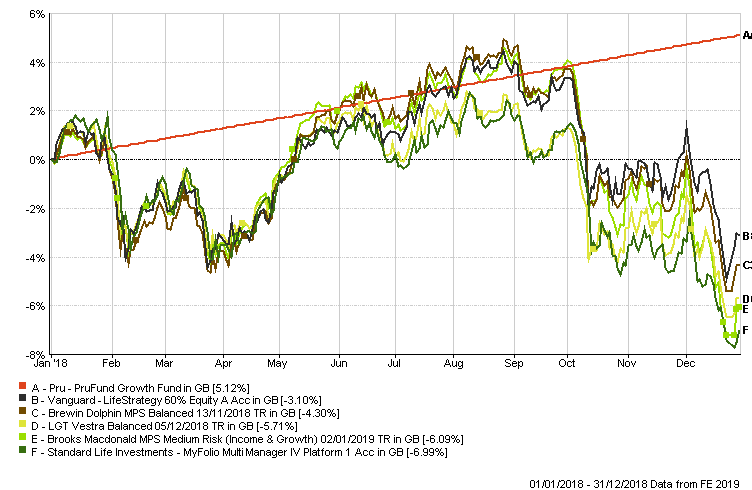 The other point to make here is that Vanguard have performed well when markets have struggled and as it is a portfolio of passive trackers, this is not what conventional wisdom tells us. Generally, when markets fall, passives have no downside protection. But as can be seen, with a portfolio of a huge range of different asset classes within it, their asset allocation has performed better than its peers. Added to the fact that the portfolio is one of the cheapest around at a cost of 0.24% pa, I can see us recommending Vanguard a lot this year.
2019 – Rally or More Pain?
I think it will certainly be a tough year ahead with worries about Europe, Brexit, US China relations to the fore and I think we can see continued volatility. Talking to a few fund managers recently they feel that the first half of 2019 will be better than the second half and there is not going to be any quick fix. That said, spreading risk as wide as possible has got to be the way forward and maybe drip feeding money into the markets over a period of time will spread the risk further.
As ever we will continue to monitor markets and keep looking for solutions that will achieve returns in this difficult time.
Phil J McGovern FPFS
Chartered Financial Planner 8th January 2019