During the long hours of lockdown it gives you time to think about where we are in the grand scheme of things and what the future will look like when we come out of it. The way I see it, traditional ways of investing have taken a pounding, albeit they have recovered quickly, but few solutions protected capital on the downside. Also, I believe our thought processes will change when we have some freedom again. How many people will look at products before they buy to see where they are manufactured? Will they continue to not bother about how a product is manufactured, or where and in what conditions employees have to work in? Will they be prepared to pay a little more for a product that is produced closer to home, with less of a carbon footprint, with companies that have a better track record in looking after the environment and looking after the people they employ? I certainly am and I believe many other people will. This is where sustainable investing comes into the equation and I believe this will be the future of investment management.
What is Sustainable Investing?
Sustainable investing is about investing in progress and recognising that companies who are solving the worlds biggest challenges can be best positioned to grow. It is about pioneering better ways of doing business and creating momentum to encourage more and more people to opt in to the future world we are working to create.
To create a sustainable future for ourselves and for future generations, a report by the International Panel on Climate Change in 2018 stated that by 2030 we must cut greenhouse gases by 45% and net CO2 emissions must be reduced to zero by 2050. This is the only way to limit global warming to 1.5 degrees celsius.
In a UN report on the worlds population it found it was growing at a rate of around 83 million people every year. By 2050 there will be 9.8 billion people in the world and 2.3 billion will be over the age of 65. More people are living longer which means more of our future will be affected by the way our nations are run, the state of our environment and wellbeing of people in it.
In 2015 the United Nations set out 17 Sustainable Development Goals (SDG's) to tackle these major challenges on a global scale. All 193 countries of the UN signed up to this agreement and it's the foundation of sustainable investing.
Below are the 17 SDGs that form the foundation of sustainable investing.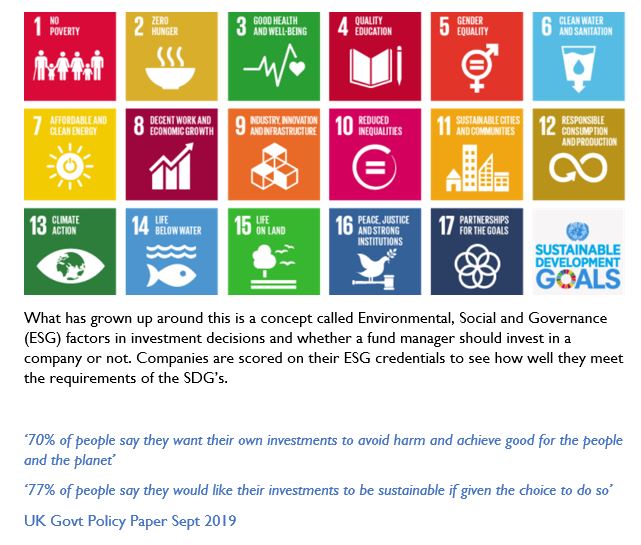 Different approaches are used where some investment funds will use a negative screening so that they avoid certain companies such as those involved in sectors like tobacco manufacture, gambling alcohol and pornography.
A positive screen allows a fund manager to invest with a conscience alongside ESG principles, with fewer restrictions than a pure negative screen.
Environmental – How companies are making an impact on the environment.
Climate change impact
Air and water pollution
Waste management
Energy efficiency
Water scarcity
Social – How companies engage with and the impact on employees, clients and communities
Human rights
Consumer privacy
Gender equality
Data security
Health and safety
Governance – How companies are governed or managed
Board structure
Company ownership
Financial reporting
Business ethics and culture
Executive remuneration
A Harvard study recently found that companies with good ratings on sustainability issues most relevant to their industries, significantly outperformed companies with poor ratings on these issues.
Global research company Morningstar supports this by saying companies that embrace low carbon technology are more likely to be future proofed and companies that treat their employees fairly are more likely to have consistent cashflows. Research by HSBC show that ESG issues make on average 43% of the key medium term financial performance drivers of companies.
Growth in ESG
There has been rapid growth in sustainable investments in the last few years that the graph below shows and it is set to continue apace especially after the Covid 19 pandemic.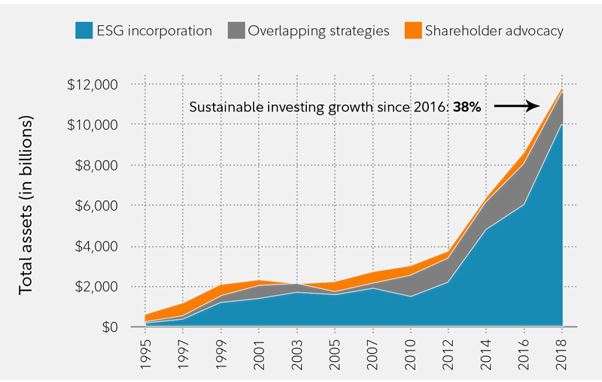 Graph from Morningstar
The growth in sustainable funds has been driven by various factors:
Future financial decision makers are asking more of companies and are seeking more sustainable investment solutions
Regulators and Governments are expanding their focus on incorporating sustainability into investments and decision making.
More importantly, there is growing recognition that ESG research and analysis can potentially identify investment risks and generate excess returns.
Proof in Performance
All investments carry risk and the more extreme you go in terms of matching certain beliefs, the smaller the investable universe is and therefore the greater risk you will be exposed to.
At MPA we have been extensively researching the market to try and find a range of solutions that balance risk with ESG credentials. We are great believers that asset allocation is critical in having a balance between equities, bonds, property and alternatives will produce the most consistent long term returns.
We also want to cater for all clients needs and requirements and also beliefs. At one end there are ethical funds and portfolios which generally concentrate on negative screening techniques which will appeal to certain clients. However, for the majority I believe a sustainable portfolio with ESG credentials which looks to a positive screening gives you the balance between a wide universe of companies that qualify and offer a net benefit to society.
There are now many individual ESG funds out there which typically have 40-100 shares in them. Balanced portfolios typically have 20-30 funds which would each have 40-100 shares in them. This means investments would be spread between 800-3000 shares spreading risk massively.
If we used a passive portfolio that tracks various markets we would end up with a portfolio consisting of possibly 7000 shares.
Below is a chart of one fund, Liontrust Sustainable Managed Growth against its sector average over 5 years.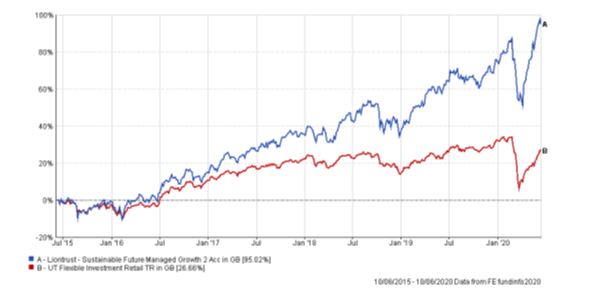 That shows excellent outperformance but this is only one fund with around 40 stocks in it.
Looking at a balanced portfolio we can see the LGT Vestra balanced portfolio against its sustainable counterpart. The timeframe is relatively short (around 18 months) but it again shows significant (statistically) outperformance.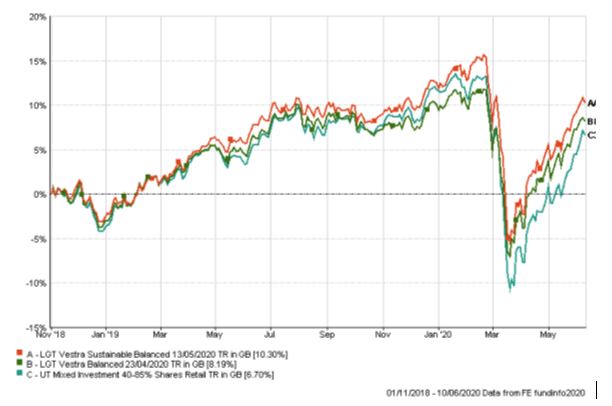 Both have outperformed the sector average over 18 months but the sustainable version has consistently done better than its non sustainable counterpart.
So, we believe the future will mean a continued shift in support to sustainable investing for the reasons outlined above and I think the pandemic will speed this up.
In response to this MPA has constructed the following:
A best buy panel of sustainable ESG risk rated model portfolios using both active and passive strategies.
A best buy list of ESG funds to compliment the portfolios
A best buy list of Discretionary Fund Managers that can build individual tailored portfolios that accurately match a clients ethical and ESG beliefs
I think in this way we can cater for all requirements in this exciting market.
Being independent of any larger company or organisation allows us to properly research the entire market and develop strategies that suit our clients requirements.
If you want to discuss the detail of these offerings please speak to your adviser.
Phil J McGovern FPFS – June 2020
The value of your investment and the income from it can fall in line with market conditions and past performance is no guide to the future.