3rd April 2020
One of our most popular individual funds we use is the Fundsmith Equity fund. It's a very concentrated fund with 29 stocks and managed by Terry Smith. He set the fund up 8 years ago and it now managers c£18BN and is a global equity fund that focuses on quality company's that pay pretty good dividends. It is mainly invested in US company's such as Microsoft, PayPal and Facebook and has a fantastic track record.
He has written an article for Trustnet which is below on his view of the pandemic.
The Fundsmith Equity manager explains how economies and markets that never got over the global financial crisis are now struggling to deal with the Covid-19 pandemic.
Coronavirus is as lethal to the economy and markets as it is to people with weakened immune systems, according to Fundsmith Equity's Terry Smith, because of years of support following the global financial crisis.
The spread of Covid-19 around the globe has seen governments implement a range of measures over the past few months – including social distancing and lockdowns – to prevent health systems from being overwhelmed. As such, economies have begun to grind to a halt as people remain at home.
Notwithstanding extraordinary monetary and fiscal support packages, FE fundinfo Alpha Manager Smith said many economies and markets are not currently fit enough to endure the impact.
"The Covid-19 virus is not fatal for the vast majority of the population," said Smith. "However, where it seems to be lethal is when it encounters someone with an immune system already weakened by age and/or pre-existing ailments.
"Similarly, what has increased the impact of the virus, or rather measures taken to counter it, on the economy and markets is that in this area it has encountered structures with weakened immune systems too.
"The fact that most of the emergency measures taken in 2008-09 – deficit spending, low or zero interest rates and quantitative easing – were still in place 10 years after the crisis demonstrated that the patient – in this case the global economy – was not back in rude health when the virus struck."
As such, the market has panicked, resulting in the large drawdowns over the past month.
The quality-growth manager said recent market performance had proven his longstanding views on the value style, which has struggled amid the market sell-offs of the past month.
As the below chart shows, since the start of the year the MSCI World Value index has fallen by 25.22 per cent compared with a fall of 12.98 per cent for its MSCI World Growth counterpart.
Performance of indices YTD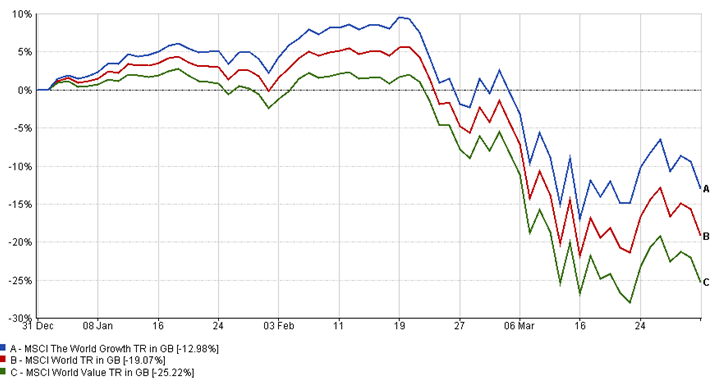 Source: FE Analytics
"As you know, I was immensely sceptical of the view that so-called value stocks could protect you in a downturn," he explained. "I have never been a believer in the philosophy that so-called 'value' investments would perform well or protect your investment in an economic and market downturn.
"Shares in companies that are lowly rated are so mostly for good reasons. Because their businesses are heavily cyclical, highly leveraged, they have poor returns on capital and/or they face other structural or management issues."
"It doesn't sound like a combination likely to protect the business and your investment in difficult times, and so it has proven thus far."
As such Fundsmith Equity's focus on quality-growth companies has seen it hold up well as the impact of measures to combat the spread of Covid-19 took a toll on stocks, which have entered bear market territory after tumbling by more than 20 per cent.
Smith said: "Our fund's performance has been as we would have expected, hoped and predicted. I would even say it is satisfactory if you accept that some fall in valuation is inevitable in a bear market."
Since the start of the year, Fundsmith Equity has made a loss of 9.45 per cent, which is significantly lower than a 16.94 per cent loss for the average IA Global peer, a 19.07 per cent fall in the MSCI World and a 23.84 per cent drop for the FTSE 100.
Performance of fund vs sector & indices YTD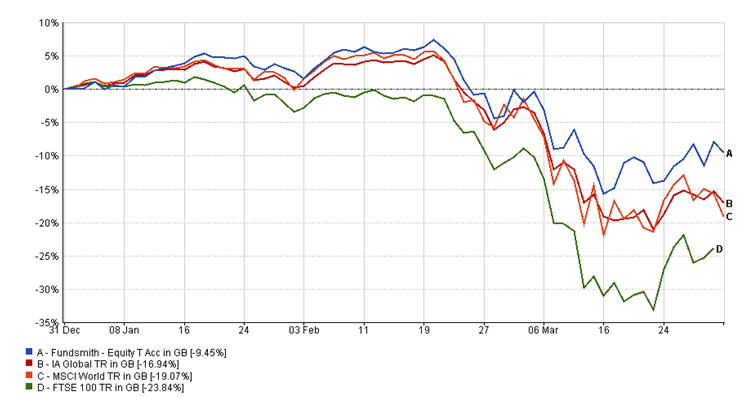 Source: FE Analytics
"Bear in mind the MSCI World and FTSE 100 indices benefit from the inclusion of our companies," he said. "The companies we do not own are collectively performing worse than the index numbers."
Portfolio companies "most in the firing line" – travel technology company Amadeus and InterContinental Hotels Group – have already put cost-cutting and cash conservation measures in place, said Smith, to ensure they can sit tight for 18 months with no revenues.
This, said the fund manager, was a far more useful course of action than attempting to forecast what the travel sector might look once conditions normalise.
"If our equity in both is vaporised we will lose about 5 per cent of our current portfolio," said Smith. "Whilst I would not be pleased with that, if that's the worst thing that happens I would suggest we can live with it."
Although there are several stocks exposed to knock-on effects in travel retail – such as cosmetics and drinks – and supply chain issues for other portfolio holdings, around one-third of the portfolio could see increased revenues.
Holdings such as technology giant Microsoft, payment processor Clorox and consumer goods company Reckitt Benckiser – responsible for many of the health & hygiene brands that have soared in popularity since the onset of the pandemic – should all see a pick-up in sales.
"What will emerge from the current apocalyptic state? How many of us will become sick or worse? When will we be allowed out again? Will we travel as much as we have in the past? Will the extreme measures taken by governments to maintain the economy lead to inflation? I haven't a clue," he concluded.
"Rather like some of the companies we most admire, I try to spend very little time considering matters which I can neither predict nor control and focus instead on those which I can affect."
Interesting comments from one of the leading lights in investment management.
Markets have been fairly flat this week which makes for a welcome change although the oil price shot up over 20% yesterday.
Have a good weekend everyone and as this thing gets closer to home for everyone, please take care and keep safe.
Phil J McGovern FPFS